Prophecykeepers Internet Radio is a Native American operated non-profit foundation
and Congressional District Program endorsed by elders of the #1 Medicine Society
in North America, The Original Keetoowah Society, "Nighthawks"


WE ARE
THE WHITE ROOTS
OF PEACE COUNCIL

Mad Bear, Founder

SUPPORT THIS COUNCIL & SUPPORT PEACE...

It's Creator's only "Only Way Out" for us.

Are You "Walking The Walk" or Just "Talking the Talk?"

Put Your Money Where Your Heart Is...
and start Walking The Walk... then go get ceremony!
"Purification Day" is right around the corner...


This Week's Guest Is:




Sat 04.03.04 >>
Clifford Alford
-Texas Cherokee Indian-
-ADAWEHI-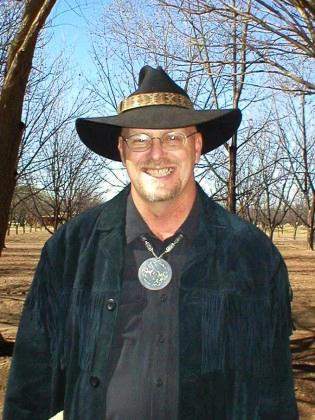 Website

Dr. Clifford N. Alford began his training at five years old, when his Grandmother, a Texas Cherokee Medicine Woman recognized his interest in herbs and the ways of Mother Earth. She taught him an average of two to three months per year for the next fourteen years.

Clifford Alford


Clifford volunteered to serve in the United States Army in 1974. At the end of his training, he spent four years with the Regular Army, five and a half years with the U.S. Army Reserves, and three and a half years with the Central Intelligence Agency's Tactical Anti-Terrorist Force, a predecessor of Delta Force. During this time, he proudly served in the U.S. Army Special Forces, the 1st Cavalry Division and the 95th Division Maneuver Training Command as well as TATF.
Over the next five years, Dr. Alford worked as a Correctional Officer with the Oklahoma Department of Corrections and worked with the Federal Bureau of Prisons. Today he continues to serve in the area of corrections as the Spiritual Advisor for the Native Americans incarcerated in the Oklahoma State Penitentiary, a high maximum security prison.
Following his time with the Federal Bureau of Prisons, Dr. Alford worked as a counselor and ministry director before moving into a more specialized area of counseling victims of occult-related crimes, and training police officers to investigate those crimes. This work took Clifford throughout the United States, Mexico, and to El Salvador, where he lectured on the subject to the National Police, El Salvador's version of the FBI, and assisted in some of their anti-terrorist activities. He returned home to the United States in 1991 to convalesce from injuries resulting in the loss of his gall bladder and five pieces of his small intestines.
Throughout all of this time, Dr. Alford continued his formal education as well as being mentored for eleven years in the spiritual practices of the Eastern Band of the Cherokee People. During his convalescence, Clifford did independent contract work as a Loss-Control Engineer, and then entered into the full time practice of Cherokee Medicine which involves the living and teaching of all the Cherokee culture.
Dr. Alford holds classes bi-weekly in his home in Baton Rouge, LA, serves as the Ceremonial Leader for the Dancing Bear Band of the Yunsai Medicine Society, and teaches seminars throughout the United States. Clifford also teaches both Anatomy and Physiology and Herbology twice per year at the Oklahoma School of Natural Healing in Tulsa, OK.
Dr. Alford's formal education includes an Associate of Arts degree in Sociology with emphasis in Criminology from Rose State College; Diplomas in Ministerial Studies, Bible and Doctrine, Church Ministries with emphasis in Education, Specialized Ministries with emphasis in Education and a teaching certificate from Berean College of the Assemblies of God; a Bachelor's Degree in Ministry, and a Master of Ministry degree from North American Biblical Seminar; a Master of Ministry Degree in Christian Counseling from Christian Bible College; a Doctorate in Bible Knowledge from the United Christian International Bible Institute; a Doctor of Sacred Theology Degree (Th.D.) from International School of Theology, a Doctor of Divinity (D.D.) from the Church and School of Wicca; Master Herbalist Degrees in both the Cherokee and European traditions from Natural Health Alternatives; and a diploma in Biblical Polemics from the Jerusalem Institute of Biblical Polemics.
Clifford is also credentialed as a Rabbinical Para-professional by the United Synagogue of Conservative Judaism, and has certificates as a Reiki Master in both Usui and Karuna Reiki; is an Eighth Degree Initiate to Astara, is a medicine chief of the Sidda, and is an ordained minister by both the Church of Wicca and the Inner Light Church of God. He is also a member of the Foundation of Shamanic Studies and the American Correctional Association.