Prophecykeepers Internet Radio is a Native American operated non-profit foundation
and Congressional District Program endorsed by elders of the #1 Medicine Society
in North America, The Original Keetoowah Society, "Nighthawks"


WE ARE
THE WHITE ROOTS
OF PEACE COUNCIL

Mad Bear, Founder

SUPPORT THIS COUNCIL & SUPPORT PEACE...

It's Creator's only "Only Way Out" for us.

Are You "Walking The Walk" or Just "Talking the Talk?"

Put Your Money Where Your Heart Is...
and start Walking The Walk... then go get ceremony!
"Purification Day" is right around the corner...


This Week's Guest Is:





Sat 03.26.05 >>
Victor Baines
-AUTHOR-
-NOSTRADAMUS-
-RESEARCHER-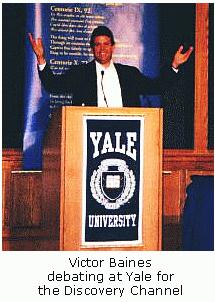 Guest's Website

AS SEEN ON TELEVISION WORLDWIDE:
THE HISTORY CHANNEL
Discovery Channel
Discovery Science Channel
The Today Show,Channel 9, Sydney, Au.
Fox 40 Sacramento, CA
Fox 13 Los Angeles, CA
Ch. 52 Hispanic Houston TX
AS HEARD ON RADIO:
SPIKE RADIO.COM
KWAB Boulder, CO
WGN Chicago, IL
BBC World Service Radio, London, UK
BBC Radio 4, London, UK
News Talk Radio, Vienna, Austria
1530 KFBJ San Diego Ca.
Strange Daze (Liberty Works) Balt., MD
Newstalk ZB, Christchurch, New Zealand
KFBK Newstalk, Sacramento, CA
KVEC, San Luis Obispo, CA
WORC Worchestire, Mass
KISS 108 FM-Boston
6 radio stations across Australia (and many other radio stations around the world)
READ ABOUT IN PRINT:
Nostradamus Magazine - Paris, France
USA Today
CBS Marketwatch
The News-Press - Fort Myers, FL
Gendia Weekly (Japan's largest weekly) Tokyo, Japan
Atlantis Rising Magazine
Star-Telegram, Fort Worth, TX
TCU Magazine
Met Spirit - Augusta, Ga

Victor L.
Baines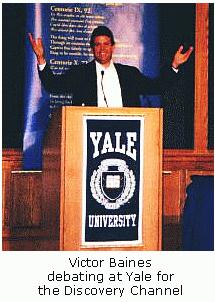 The Nostradamus Society of America is an Internet based historical society dedicated to preserving the memory of the famous 16th century prophet Nostradamus. Since our formation in 1996, our goal has been to provide visitors, members (and the media) with relevant information, (and opinions) regarding the life and prophetic writings of Michele de Nostradame of France. We provide a global center of communication for historical, educational, and commercial purposes, and we are not associated with any political or religious organization

read more on guest's website