Prophecykeepers Internet Radio is a Native American operated non-profit foundation
and Congressional District Program endorsed by elders of the #1 Medicine Society
in North America, The Original Keetoowah Society, "Nighthawks"


WE ARE
THE WHITE ROOTS
OF PEACE COUNCIL

Mad Bear, Founder

SUPPORT THIS COUNCIL & SUPPORT PEACE...

It's Creator's only "Only Way Out" for us.

Are You "Walking The Walk" or Just "Talking the Talk?"

Put Your Money Where Your Heart Is...
and start Walking The Walk... then go get ceremony!
"Purification Day" is right around the corner...


This Week's Guest Is:





Sat 12.11.04 >>



-Wynn Free-
-Author-
-The Reincarnation-
-of Edgar Cayce-

Website

"Don't buy it simply to learn about Cayce, or even David Wilcock, the man who claims to be Cayce's reincarnation and the bearer of a message for Humanity of even greater import and impact than that brought by the "Sleeping Prophet" himself." "No matter where you are along your spiritual path, if you can accept the possibility that entities more evolved than Humanity both exist and communicate directly with individual humans for the betterment of our species, this book is a treasure chest waiting to enrich your journey. The only key you need is an open mind." The Reincarnation of Edgar Cayce? by Wynn Free with David Wilcock "Wynn Free weaves the disparate threads into a single, tight braid that convincingly intertwines to reveal behind the many faces, there is a single voice calling Humanity to awaken."

Wynn Free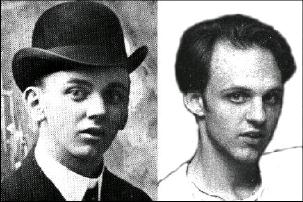 Edgar Cayce (L) and David Wilcock(R)
Story Overview: Edgar Cayce, who died in 1945, has the reputation of being the western world's most famous and documented psychic/prophet.
He left a legacy of 15,000 readings and since his death, 500 books havebeen written about him, on such diverse topics as alternative health, past lives, and future prophecy.
The life circumstances of 31 year old kentucky resident, David Wilcock, have led him to believe he is the reincarnation of Cayce. In 1996 Wilcock started recording his dreams and upon waking up and reviewing the notepad by his bed, he found a series of sentences, giving him advice, instead of dreams. Eventually the sentences would make predictions of events in Wilcock's future and happenings in the world.
After a year of ongoing dialogue, Wilcock's dream voice requested that he move to Virginia Beach, the home of the Edgar Cayce foundation. Having an interest in spiritual phenomena since his childhood, Wilcock visited the institute and upon passing through the front door, he found everyone in the room intensely stareing at him.. It turns out he was the spitting image of a young Edgar Cayce.
Wilcock immediately went home and asked his dream voice why he looked like Edgar Cayce. The answer - He was. But this lifetime, his highest mission was different from Cayce's. Where Cayce spent his life doing past life readings, health readings, and prophecy, Wilcock was asked to explain a dimensional shift planet earth is in the midst of, the end of a 75,000 year cycle.
He immediately began a study of Cayce, and to his amazement, he learned Cayce predicted that he would return in 1998 and live in Virginia Beach. It was November of 1997 that Wilcock was told he was Cayce. His dream voice guided him to Virginia Beach to make sure he fulfilled the prophecy.
Then he found that he was born on the one day of 127 years where his astrological planetary configurations exactly matched Cayce's, with odds of 300,000 to one.
Los Angeles, poet, songwriter, metaphysical journalist, Wynn Free, is the principal author of a book about the Wilcock/Cayce connection, entitled "The Reincarnation of Edgar Cayce?" which has become one of his publisher's top 10 best selling books. Famous 60's spoon bender, Uri Geller, after studying the case, has allowed his own endorsement to be used on the cover of the book.
"David Wilcock is Edgar Cayce" - Uri Geller
read more on Wynn's website