Prophecykeepers Internet Radio is a Native American operated non-profit foundation
and Congressional District Program endorsed by elders of the #1 Medicine Society
in North America, The Original Keetoowah Society, "Nighthawks"


WE ARE
THE WHITE ROOTS
OF PEACE COUNCIL

Mad Bear, Founder

SUPPORT THIS COUNCIL & SUPPORT PEACE...

It's Creator's only "Only Way Out" for us.

Are You "Walking The Walk" or Just "Talking the Talk?"

Put Your Money Where Your Heart Is...
and start Walking The Walk... then go get ceremony!
"Purification Day" is right around the corner...


This Week's Guest Is:





Sat 07.10.04 >>
Eduardo Holman
-Apprentice-
-Curandero-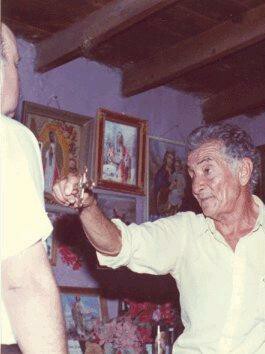 -Don Martín Martínez performing a cure in front of his altar in Ojinaga, Chihuahua, Mexico-
-Tarahumara Indian-
Guest's Website
His other websites:
Don Martín Martínez: http://ojinaga.com/curandero
Patiy Zacarías: http://ojinaga.com/curandera
Manuela Porras: http://ojinaga.com/santisima
Antonio Vázquez: http://www.ojinaga.com/tara/curandero/
Refugio Rivera "Doña Cuca": http://www.ojinaga.com/cucalimpia.html

Bryant "Eduardo" Holman, a "gringo"of Presidio, Mexico, is a student of Curanderismo, or the belief in the practice of magical healing. He joins us this week to reveal the fascinating world of magical healing among the Tarahumaran Indians of Chihuahua, Mexico. In addition, Eduardo has been invited to learn Brujeria, or witchcraft, which he is doing for the purposes of self-defense.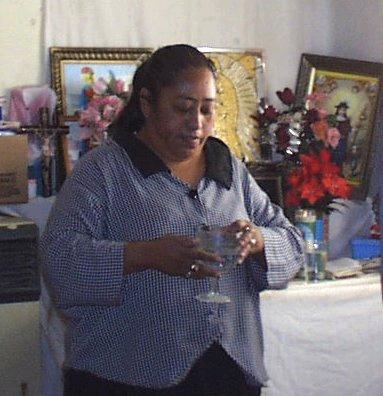 CURANDERISMO
by Bryant "Eduardo" Holman
When I first came to live in Ojinaga, I immediately became intrigued as to how much the people here are influenced by what is almost an obsession with what we might term the supernatural. I came to find out that this fact is almost the cornerstone of the culture here, and that this is really the norm throughout Mexico. It amazed me that anthropologists and writers seem to have missed the point on this issue, by and large.
In the course of studying this phenomenon it finally became clear that the only way I was going to really understand it would be to befriend an actual curandero, and thus I came to seek out and to know Don Martín. I have since discovered that he is quite famous both here in Ojinaga and in the San Carlos region, besides having a large following all around the area of the "diaspora" of the Ojinaga and San Carlos people in the United States.
Read More on his website