Prophecykeepers Internet Radio is a Native American operated non-profit foundation
and Congressional District Program endorsed by elders of the #1 Medicine Society
in North America, The Original Keetoowah Society, "Nighthawks"


WE ARE
THE WHITE ROOTS
OF PEACE COUNCIL

Mad Bear, Founder

SUPPORT THIS COUNCIL & SUPPORT PEACE...

It's Creator's only "Only Way Out" for us.

Are You "Walking The Walk" or Just "Talking the Talk?"

Put Your Money Where Your Heart Is...
and start Walking The Walk... then go get ceremony!
"Purification Day" is right around the corner...


This Week's Guest Is:


Hunbatz Men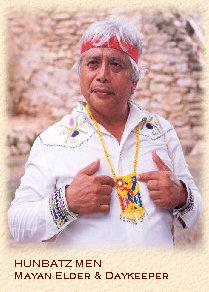 Hunbatz Men is a "Daykeeper" of the Lower or "Itza" Maya, the equivalent of a king of one of the three Maya Kingdoms.

Don Hunbatz has traveled the word for many years, telling the truth about the "Mayan Factor," at times seeing the need to differentiate between some facts and a bit of fantasy that has been published in the popular press by non-Mayans.
The Mayan culture is, after all -- his culture, and he should be the person to explain it, and non-Mayans should be respectful of that, as ALL Native culture have been stolen, bastardized, misappropriated, and misinterpreted by non-Mayans.
Familiar with over 3000 Mayan glyphs, his insight is far more valuable and trustworthy than those of authors and scholars who may read 30 or 40 glyphs!
Don Hunbatz has agreed to be our guest from time to time as spirit directs, and we are very humbled and grateful that he has chosen www.Prophecykeepers.com to carry his voice, 24 hours a day, 7 days a week, 365 days a year!
This interview was arranged by Don Hunbatz' friend and associate Dr. Robert Ghost Wolf.