Prophecykeepers Internet Radio is a Native American operated non-profit foundation
and Congressional District Program endorsed by elders of the #1 Medicine Society
in North America, The Original Keetoowah Society, "Nighthawks"


WE ARE
THE WHITE ROOTS
OF PEACE COUNCIL

Mad Bear, Founder

SUPPORT THIS COUNCIL & SUPPORT PEACE...

It's Creator's only "Only Way Out" for us.

Are You "Walking The Walk" or Just "Talking the Talk?"

Put Your Money Where Your Heart Is...
and start Walking The Walk... then go get ceremony!
"Purification Day" is right around the corner...


This Week's Guest Is:


Manny Two Feathers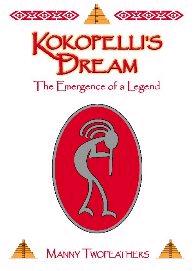 Manny's Excellent New Book


Manny Twofeathers, Aztec and Yaqui, was born in Arizona. He was largely influenced by the southwest legends and native spirituality born of his ancestry. He has authored 2 hugely successful books: "My Road to the Sundance" (published by Hyperion and 2002 edition by Wo-Pila Publishing) and "Stone People Medicine" (published by Wo-Pila Publishing and New World Library) - both lean toward native spirituality, and have been published in foreign languages. Twofeathers is a spiritual elder and counselor. He travels extensively performing spiritual ceremonies, giving lectures and workshops throughout the U.S., Canada and Europe. He currently lives in Pennsylvania with his wife and their 2 children.




One of Manny's Handmade Stone People which accompanies the Stone People's Book

Biography for
MANNY TWOFEATHERS
A native of South Central Arizona of Aztec descent, and being reared in the old ways, Manny has many gifts - both spiritual and creative. As a Sundancer and counselor, his reputation and popularity is growing to such a degree that demands are being made for him to appear all over the world giving lectures and workshops.




One of Manny's Handmade Stone People which accompanies the Stone People's Book

As an author Manny has written several books. His newest release, and first fiction story, "Kokopelli's Dream…the Emergence of a Legend" is being published in May, 2004. His own story, "My Road To The Sundance", enjoyed publishing success. In January 1995, he self published this book, and 5 months later, Disney's Hyperion Publishing purchased the rights to re-release it in hardcover for July, 1996.
The Sundance book has been translated into German and Italian editions, and a third REVISED edition is now available. In 1997, he released another self-published book, called "Stone People Medicine," it has sold 11,000 copies. It has been released in Italian, and is now re-released by New World Library, as a book boxed set with Stone Cards included. The common thread with all of Manny's written material, is the Native American spiritual theme. Many reviews and letters received from those that read his books, say his books, "Changed my life" . . . "moved me to tears" . . . "inspired me to follow a spiritual path."




One of Manny's Handmade Stone People which accompanies the Stone People's Book

Manny was in Europe offering a workshop series, as a guest of the Maori Princess from New Zealand. He was a featured speaker and lecturer for the "Belonging To Mother Earth" conference, in Oct. 1998 that gathered indigenous, spiritual people from all over the world to speak, listen and learn. It was sponsored by the "Institute for Global Education" and the "Association for Research and Enlightenment (A.R.E.) in Virginia Beach. During the Native American Month in 1999, Manny was the Guest of Honor at the Offutt Airforce Base in Nebraska, to celebrate the Native American Veterans that served in the U.S. Military.
He can be found giving talks to small children in campgrounds about the creation story and how important it is to keep our Mother Earth sacred, to big universities on the importance of spirituality in our lives. He is clearly here to lead others and teach those willing to learn, about the importance of looking after our Mother Earth, living in a sacred way by respecting ourselves and others, and keeping a connection with the creator by living spiritually - every day.




One of Manny's Handmade Stone People which accompanies the Stone People's Book

His vision is to help others to find their own "personal spirituality," and return to the Sacred Circle. Manny feels, "This quest will eventually lead to uniting 'All my Relations' and bring us all back to the spiritual beings the Creator intended us to be."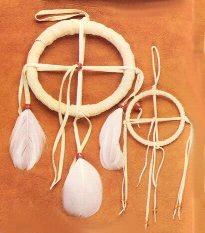 One of Manny's Homemade Craft Creations

Other Accomplishments:
In the Military:
Received the High School equivalent G.E.D. (Military I.Q. rating of 122)
Was promoted to the rank of Non-Commissioned Officer - attended the N.C.O. Academy in Ft. Riley, Kansas.
Attended Jump School in Ft. Bragg, N.C.
Attended Ground Surveillance School in Munich, Germany.
In Civilian Life:
Gold Mining - Placer mining in California, Oregon, Idaho, etc.
Attended Black Jack dealer school in Las Vegas, NV.
He has appeared as an extra in such films as, "Gambler III," with Kenny Rogers, "On Deadly Ground," with Stephan Seagal, "Dr. Quinn, Medicine Woman," and "Once In A Lifetime," with Lindsay Wagner, and most recently a featured role as the Pinata maker, in the thriller movie, "Pinata: Survival Island" released in early 2003.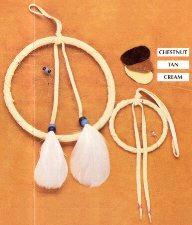 One of Manny's Homemade Craft Creations

Though his tribe does not participate in the Plains Tribes' Spiritual Sundances, Manny has, as part of his spiritual beliefs, completed 4 Sundances with the Shoshoni people in Ft. Washakie, Wyoming. He has pierced in 14 Sundances in Rosebud and Porcupine, South Dakota. As of June, 2000, Manny Twofeathers, was directed by the Creator to begin a Mixblood Sundance, and recently completed the 4th annual Mixblood Sundance in Pennsylvania.
Manny is a spiritual leader and counselor for many people in Canada and the U.S. Currently, Manny lives in northwestern Pennsylvania, with his wife and children.

read more on Manny's website

Instructions for "getting in touch" with your Creator -- and surviving the soon-coming earth changes - Dead Zones are have been found in the world's oceans - The Pentagon is studying climate collapse. Reuters News headline: "Fears that the earth is undergoing a mass species wipe-out". Swiss Re -- the world's second largest reinsuror -- is warning of climate catastrophe. The U.N. is warning the Middle East of a locust plague of biblical proportions. Leprosy is making a comeback. Pope John-Paul II, Oceanographers, Atmospheric Scientists, Solar Scientists, Glaciologists, www.Nature.com, F.E.M.A., N.A.S.A. (listen) and even our growing plants are all now saying the same thing Creator told one of
us in 1998 -- that the weather worldwide will soon change drastically. The Gulfstream is shutting down. Volcanism is increasing, as it usually does during ice ages cycles.


A new ice age is beginning.


The Hopi and Mayan elders
predicted ALL of this. We were
told by the Creator in March, 1998, "In the future, 2005 will be known as the 'Year of the Great Havoc' - because the weather will become so bad as to possibly shut down many or most computers on the planet... now wake up and write that down!" We have our cold-weather gear and we moved south. Will you be ready physically and (much more
importantly) spiritually? Learn how here...