Prophecykeepers Internet Radio is a Native American operated non-profit foundation
and Congressional District Program endorsed by elders of the #1 Medicine Society
in North America, The Original Keetoowah Society, "Nighthawks"


WE ARE
THE WHITE ROOTS
OF PEACE COUNCIL

Mad Bear, Founder

SUPPORT THIS COUNCIL & SUPPORT PEACE...

It's Creator's only "Only Way Out" for us.

Are You "Walking The Walk" or Just "Talking the Talk?"

Put Your Money Where Your Heart Is...
and start Walking The Walk... then go get ceremony!
"Purification Day" is right around the corner...


This Week's Guest Is:

-Adam Rubel-
-Founder-
-Saq' Be': Organization for Mayan and Indigenous Spiritual Studies-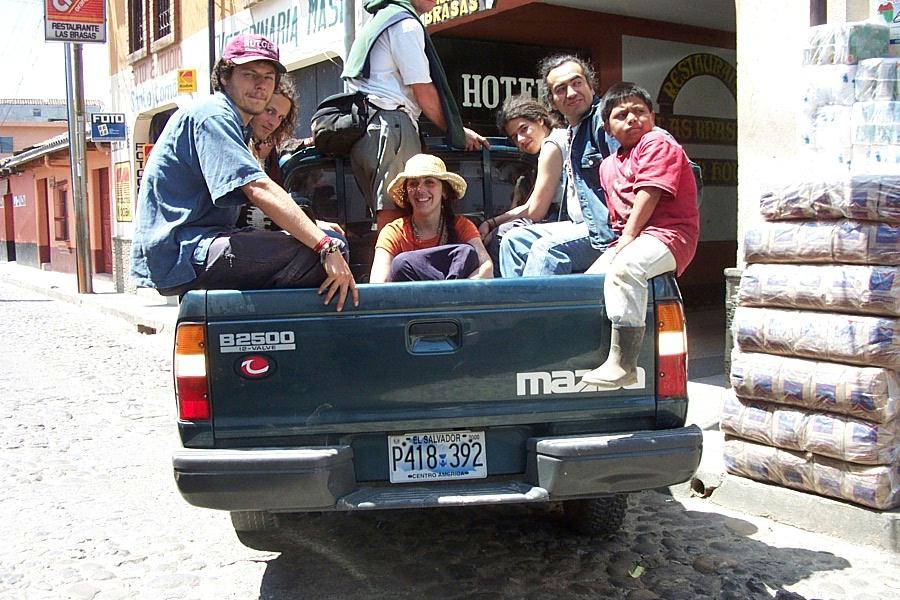 Adam Rubel (on left)

Saq' Be' website

About Saq' Be'
Who is Saq' Be'?
Adam Rubel is the founder of SaqBe at the request of Mayan elders he met in Guatelamala.
Saq' Be': Organization for Mayan and Indigenous Spiritual Studies is a non-profit organization in our third year of existence. The organization is operated on a completely volunteer basis primarily by Co-Directors Adam Rubel (28) and Zoraida Palacios (31), with one other board member, as well as what we receive in the way of additional support from the broader community. Saq' Be' was formed at the request of Mayan Ajq'ij (priests) that the founders had come to know through meetings both here in the states and in Guatemala for two principle purposes:
1. To open doors of opportunity for Mayan Ajq'ij and elders to share and deliver directly their messages and teachings to the world, with an emphasis on involving youth and young adults and
2. To support their efforts and the efforts of Indigenous communities with the rescue and preservation of their traditions in the face of the forces of globalization and the aggressive actions of Protestant and other fundamental churches. For this, we are here to support the communities we serve, to listen to them and their needs and help them to find ways to accomplish their goals. The co-directors are both from the modern world; Adam is from New Jersey and Zoraida is from Ecuador. Saq' Be' serves as part of a bridge between the modern and Indigenous world.
The elders have their prophecies about this time, a time when people from all over the world with different color skins would return to learn the ancient ways (prophecy of Iq'i Balam). We work to facilitate this by arranging for groups to travel to Guatemala to meet directly with Ajq'ij and Indigenous communities to learn, participate in ceremony, and provide much needed support to the communities. We also bring Ajq'ij and Indigenous leaders and guides to the US, as we have brought Carlos Barrios from Guatemala, a representative from the Arhuacu tribe in the Sierra Nevada de Santa Marta in Colombia and plan for others. At this young stage, we have been drawn to the realization that we, who were raised in this modern world, must confront the latent tendencies that can be described as "colonialism" which we have inherited.
We feel that each of us has our ancestors; we each came from an Indigenous tradition. Many of these traditions have been lost, some for thousands of years, leaving generation after generation to wander upon this earth without feeling the connectedness to our mother, without recognizing the respect for life and the need to create balance amongst all of our relationships. All of our tribes, except for the few remaining Indigenous peoples of this earth, share this similar fate. We have been taught for generations the importance of self over community, of domination over nature and over each other, of control and power for individual purposes rather than for the good of the whole.
We have lost our sense of justice, the sacred laws. And perhaps most important, we lost our ways to heal our wounds. We feel that this is why the remaining Indigenous cultures are so important, that it is so important that we make every effort to ensure they are not absorbed or destroyed. We believe that we can listen and learn from these people, that we can regain what has been lost for all of those generations. But first, we must confront the tendencies to exploit, to conquer, to serve selfish motives even though we may describe it as something else.
We do not believe we need to become something we are not (Indian or Mayan or whatever), rather we can learn from these people without romanticizing their lives and without de-valuing ours. Below are more specifics on the projects and efforts we plan on undertaking in this next year or so to facilitate this process. We believe the times we are in are very real, of great significance, and very delicate. Perhaps it is the time when integrity matters most and some will rise and some will sink. We hope to rise, but only the universe will decide. As the Popol Vuh says: "let all rise - every last one.
No one or two shall be left behind." This is what we must focus on to bring each other up rather than compete. It is a difficult road that is filled with obstacles, but they can all be overcome by walking a straight path. The prophecies of the Maya offer hope and offer that we play a part in our destiny - as individuals, families, communities and a planet. It is important to have this vision, the broad vision. For us it is important to always ask for guidance, in whatever way one finds that guidance. And it is important to bring that broad vision to manifest here on this earth, in our lives and in our work.
This has led us to the work of this organization, to do the things that we do because we believe they are a part of a bigger vision. We are just here to serve and facilitate a greater process that is unfolding. We have been given many opportunities. We hope to be able to serve these opportunities to further that vision and open more doors and awareness on a very simple and practical level. This also appears the time when more of the real knowledge of the Mayan people will come forth (which is deeper than we believe most people think) including the tools they have to share for restoring balance and harmony upon the earth. So we?re here to serve and play our part, nothing more.

Mr. Rubel can be contacted via Saq' Be' -- Organization for Mayan and Indigenous Spiritual Studies: P.O. Box 31111, Santa Fe, NM 87594 Ph: 505-466-4044. Email: saqbe@sacredroad.org
Read more on the Saq' Be' website