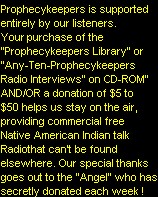 ON ALL PURCHASES... LOWEST MICRONUTRA PRICES ON THE PLANET!


Who is Kevin Trudeau and what victory did he just win?

Sept 7th, 2005
Judge Suspends New York's Interference With Sale of Kevin Trudeau's Best-Selling Book
A federal judge Tuesday issued a preliminary injunction against the New York State Consumer Protection Board (CPB) prohibiting it from directly contacting a cable or broadcast station in order to induce such stations to refuse to carry, or cease to carry advertisements for the Natural Cures book authored by Kevin Trudeau. Read the complete Press Release

Often referred to as the "king of infomercials" Kevin Trudeau has marketed everything from speed reading and memory boosting programs to weight loss supplements, alternative medicine and pain relief devices. The FTC recently judged that the claims made for some of the products he and his company marketed went too far. The FTC also alleged that the formatting of those infomercials deceptively represented that the commercials were independent television and radio programs, not paid commercial advertising. A 2004 settlement with the FTC broadly bans him from appearing in, producing, or disseminating future infomercials that advertise any type of product, service, or program to the public, except for truthful infomercials for informational publications such as his book "Natural Cures They Don't Want You to Know About." In addition, Kevin Trudeau cannot make disease or health benefits claims for any type of natural cures product, alternative medicine, service, or program in any advertising, including print, radio, Internet, television, and direct mail solicitations, regardless of the format and duration.
Despite this, Kevin Trudeau is fast becoming the nation's foremost consumer advocate for natural cures and alternative medicine. Adopting as both his business and personal mission statement a vow to "positively impact the whole person", Kevin has built a $2 billion global business empire that marketed and sold products that he personally used and believed in 100 percent. Kevin Trudeau knows from personal experience how big business and government try to debunk individuals who promote products that could hurt the profits of the giant multi-national corporations. His revolutionary book talks about the reasons you are sick, natural remedies and how the American Medical Association, Federal Trade Commission, the Food and Drug Administration, and the pharmaceutical cartels are suppressing information about natural remedies, alternative medicine and natural cures for virtually every disease.
Proven natural remedies and powerful alternative medicines do exist and our goal is to highlight some of the specific products that Kevin Trudeau can only hint at in his best selling book "Natural Cures They Don't Want You to Know About." Here we reveal the proven natural alternative medicines for diabetes, high cholesterol, gout and digestive disorders.

FDA Required Legal Disclaimer - These statements have not been evaluated by the FDA. This product is not intended to diagnose, treat, cure, or prevent any disease.